Nail Files
Kashōki Nail File Collection offers sophisticated products made to prove that functionality can be unusual and unique. The Kashōki Nail File Collection has been developed with care and attention to the smallest detail. All files are made of the highest quality abrasive materials, which are very durable and allow to precisely shape and style nails. Kashōki Nail File Collection has a complete range of accessories to meet your every need and will enable you to easily achieve great finish. High quality nail files and buffers will boost your creativity because beautiful nails are the trademark of every woman.
FILE STRUCTURE AND MATERIALS

The abrasive layer is made of highest quality materials covered with abrasive particles. It is extremely durable, maintains its sharpness even with prolonged use, and at the same time is safe for the cuticles and nails.

The file structure is based on a flexible core, covered with sponge which makes the pressure on the nail plate during styling gentle and safe. At the same time by adapting to nail plate, it provides larger contact area, which facilitates faster nail styling and protects natural structure of the nail plate against damage.

The flexible core and thick, foam sponge covered with highest quality powder abrasive material ensure safe and even smoothing of natural and enhanced nails.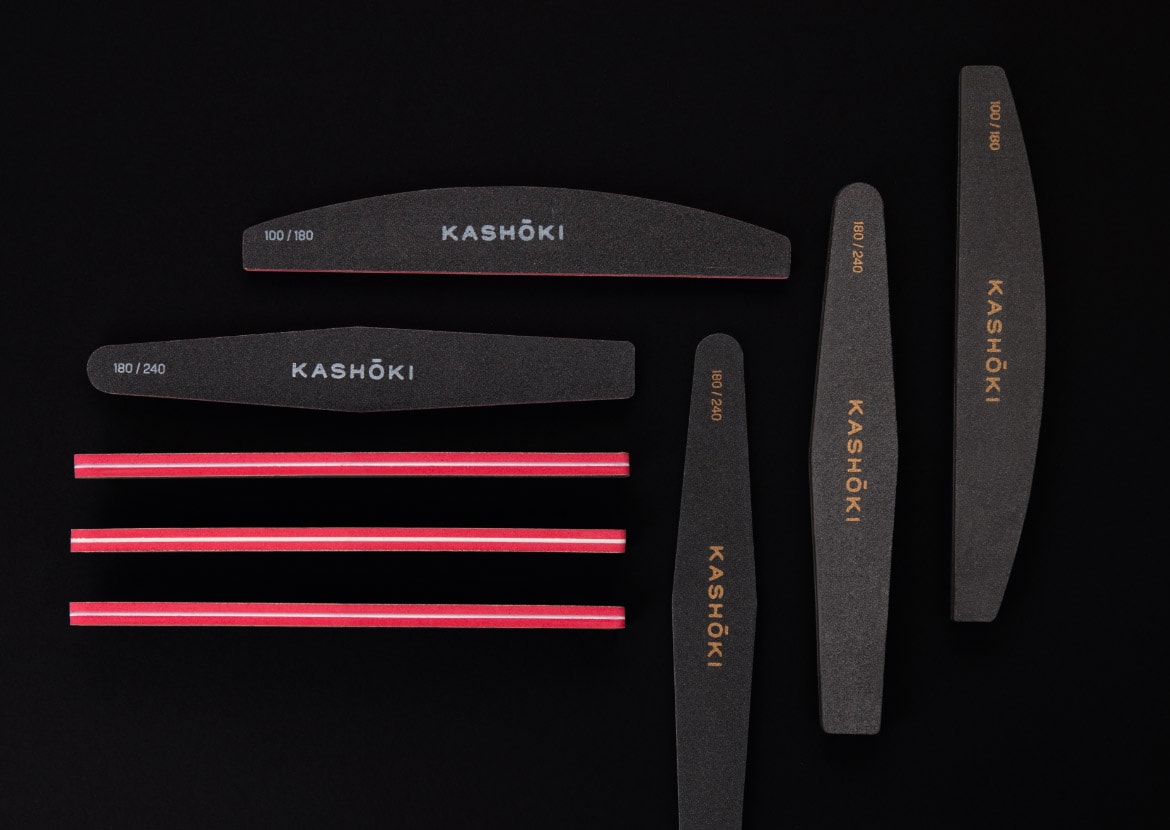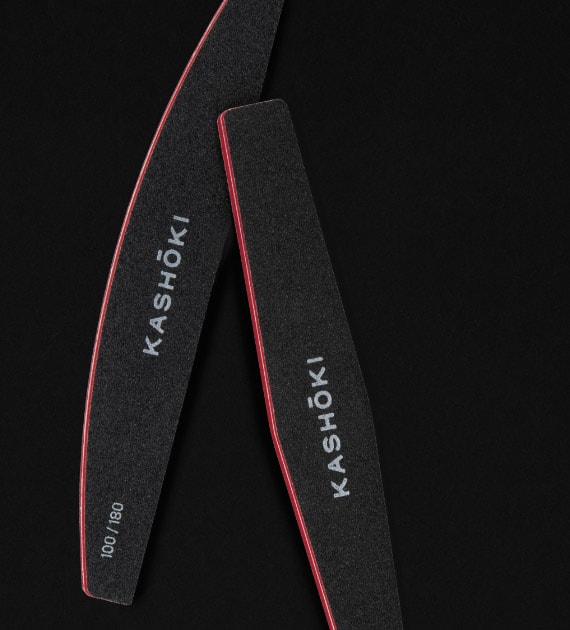 SHAPES
Bridge shaped file: 
A bridge-shaped file combines the features of a classic, straight, multifunctional file and a rounded file, which allows for more precise shaping of the nail plate around the cuticles. The rounded part is perfect for shaping the side edges and areas by the nail shaft. The straight edge is great for shortening nails or shaping them. The bridge file is very comfortable to use and is suitable for both natural and extended nails.
Diamond shaped file:
A diamond file is a great tool for those who prefer wider files, very practical for shortening and shaping, as well as during nail styling. The straight edges of the file allow to conveniently and effectively shorten nails. The rounded and cut edges, work well by the cuticle and nail shaft areas. The diamond file is suitable for both natural and extended nails.